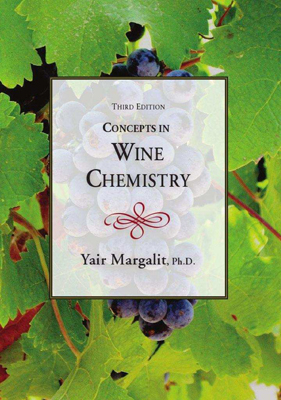 Concepts in Wine Chemistry, 3rd Edition
$ 89.95
7 x 10", ISBN 9781935879817, usually ships within 3-5 days
Yair Margalit, PhD
544pp, 500 B&W illustrations, 2012
More than 150 years after Louis Pasteur attributed fermentation to a living organism, the field of wine microbiology and chemistry is vibrant with discovery. The last decade alone has seen great strides in our understanding of the biochemistry involved in vinification. In this new edition of his classic text, Yair Margalit gives the complete and current picture of the basic and advanced science behind these processes, making the updated Concepts in Wine Chemistry the broadest and most meticulous book on the topic in print. Organized to track the sequence of the winemaking process, chapters cover must and wine composition, fermentation, phenolic compounds, wine oxidation, oak products, sulfur dioxide, cellar processes, and wine defects. Margalit ends with chapters detailing the regulations and legal requirements in the production of wine, and the history of wine chemistry and winemaking practices of old.
Yair Margalit, PhD, is a world renowned physical chemist, a practicing winemaker, a university professor, and the author of the bestselling Concepts in Wine Technology, Small Winery Operations, 3rd Edition.
Following video shot in the author's Israeli vineyard.