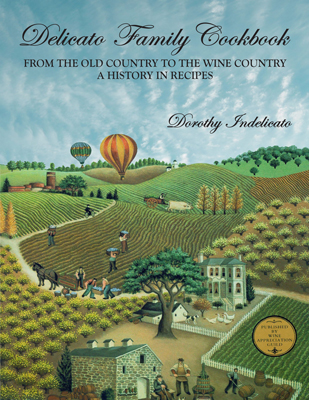 Delicato Family Cookbook: From the Old Country to the Wine Country, a History in Recipes
$ 9.95
Digitally Watermarked. No DRM.
Dorothy Indelicato
8.5 x 11", 176pp, ISBN 9781935879664
Since its founding by the newly immigrated Indelicatos, the Delicato Family Winery has lovingly performed its craft for 85 years in the historic wine-growing region of California's Lodi Valley. Within these pages, second generation matriarch Dorothy Indelicato provides readers with a rich historical narrative, the type that can only be told with the help of a large collection of family recipes.
 From simple, quick dishes to all-day affairs—from Ricotta stuffed Cozzula and Pasta Ascitta to Champagne Veal, Portuguese Sopas, and the sainted Osso Buco—this cookbook is a mix of old-world Italian and Portuguese cuisine. Of course, there's also a lot of good wine-sense here including the proper methods for cooking with wine, pairing information, and marinade recipes.
 At its heart the Delicato Family Cookbook is a celebration of the way good food and a legacy of vibrant kitchen life informs a happy, healthy, well-fed family. ​
Check out the Delicato Family Recipes for Thanksgiving:
Below are links to this years Thanksgiving recipes. Please sign up on our mailing list to receive notifications of new recipes and culinary tips!