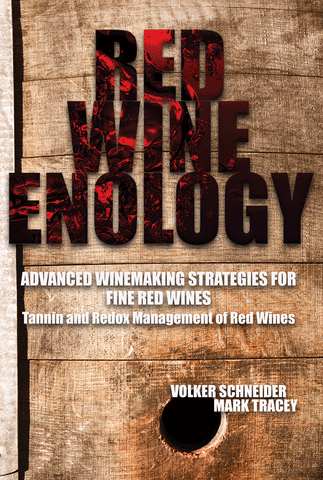 Red Wine Enology: Tannin and Redox Management in Red Wines.
$ 89.95
Third in the series by Volker Schneider, Advanced Winemaking Strategies for Fine Wines
Hardcover, 7 x 10", Black and White interior, ISBN 978-1-935879-15-2
Red Wine Enology - Tannin and Redox Management in Red Wines - addresses the very heart of red winemaking, which is the extraction of tannins and colored compounds as well as the subsequent measures of balancing oxygenation and reduction throughout elevage to achieve their optimal sensory expression. In a broad-ranging discussion of redox management, the authors address in a single volume the most important and yet the most controversial aspects of red wine enology.
The reader is guided through basic phenol chemistry and analysis to the broadly accessible total phenol measurements facilitating appropriate redox management decisions. Building upon these foundations, the authors discuss the entire process of vinification - from maceration options through elevage and stabilization to bottling, clearly defining what measures to take and those to avoid. Barrel aging, oxygenation, and the role of yeast lees and SO2 are presented as part of a holistic approach to elevage as a multidimensional process. Where appropriate the text encompasses closely associated issues including oak alternatives, micro--oxygenation, control of spoilage microorganisms, adjustment of pre-bottling free SO2 to compensate for post-bottling SO2 losses, and the issue of the so-called natural wines. Due to the shear complexity of tannin chemistry, this book has a strong focus on sensory analysis throughout discussing appropriate redox strategies to preserve fruit in low-tannin wines and to optimize the ageability of high-tannin wines.
Volker Schneider was a lecturer of enological chemistry at Geisenheim University (Germany) and founder of the international consulting firm Schneider-Oenologie, which specialized in quality control, product development, and research. He has authored several scientific papers and more than 400 technical articles.
Mark Tracey is an emeritus professor of engineering at the University of Hertfordshire (UK) with an applied research interest in new winemaking technologies. He collaborates with Italian producers in experimental winemaking.
"Volker Schneider is a unique actor in the science of wine. In a sector that still has a strong conventional and empirical component, he manages, through his unique and profound knowledge of science, to help winemakers and wine professionals to take a more accurate approach, mirroring reality as it is and not as they would like it to be. These books are a reflection of this approach that makes them an important and unique tool for all winemakers and managers."--Pedro Pereira Gonçalves, Executive Board Member, Ravasqueira Wines, Portugal
"Volker Schneider's excellent tutorial-style series exemplify his unique approach to consulting and academic work: a balance of leading-edge theory and practice. Compared to the depth of Advanced Winemaking Strategies for Fine Wines, other enology texts barely scratch the surface of the topic or neglect its practical implementation in the winery. As a professor of enology from the birthplace of winemaking, I like to use these books in my teaching and have added them to the list of recommended literature in our syllabus." --Dr. Davit Chichua. Professor of Enology, Agricultural University of Georgia, Tbilisi, Georgia
"As a quality conscious winemaker I try to follow new oenological research developments which I believe can allow my wines to further evolve, however its sheer volume and the quite often contradictory terroir and cultivar-specific nature of results make much of it very difficult to apply with confidence. In my view these books address this issue and are unique in holistically combining Volker Schneider's deep theoretical insight with real-world data born of his research-winemaking and consultancy to illustrate its practical application. At points this holistic approach sometimes focusses on areas that are the subject of widespread and embedded misconceptions. Importantly, the author understands the reality of small to medium scale producers and proposes practical techniques within the resources of the winery to base their decision-making upon."--Gunther Strub, Weingut Walter Strub Winery, Germany