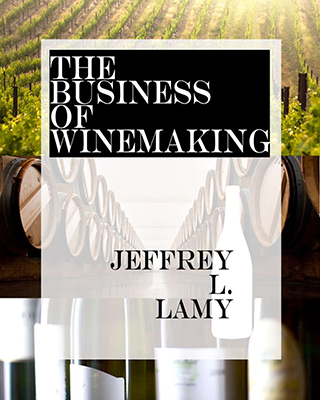 The Business Of Winemaking
$ 35.00
Digitally Watermarked. No DRM.
Jeffery L. Lamy

 620pp, 500 B&W illustrations, graphs, charts
The peculiarities of the wine trade make it a particularly profitable sector of agribusiness. That is if the right fundamentals support an informed business model.
 The Business of Winemaking puts every conceivable facet of running a winery into perspective, from writing business plans and acquiring financing to tax considerations and marketing. It is the definitive, single ready resource for winery managers, owners and investors.
Market Analysis

Vineyard and Winery Design and Construction

Equipment Costs

Regulatory and Legislative Issues

Accounting and Recordkeeping

Financial Analysis

Typical Salaries by Geographical Area

Minimum Economic Size of Vineyards

Pricing

PR and Marketing

Sustainable Farming

and more…
Abundantly illustrated and written in an understandable style, the book also addresses the technical rudiments of viticulture and enology as well as all of its related business correlates, and features comprehensive case studies from 20 winery sites from coast to coast.
Before his death in 2014, Jeffrey L. Lamy had been a prominent wine consultant for nearly 40 years. A feature of the Oregon wine business, he is perhaps best known for his stewardship as GM and winemaker of the state's renowned Montinore Vineyards, taking it from conception and feasibility study to national prominence.