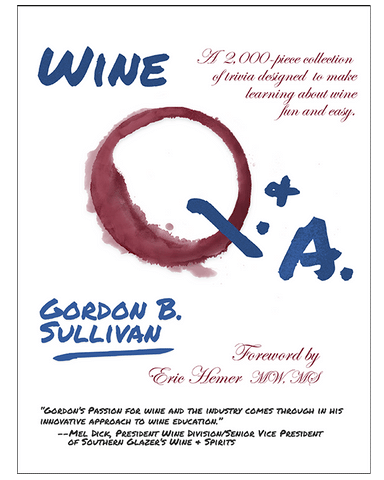 Wine Q. & A.: A 2,000-piece collection of trivia designed to make learning about wine fun and easy.
$ 34.95
Hardcover, B&W, 256pp., 8x10", maps of wine regions
Gordon B. Sullivan 
Foreword by Eric Hemer  MW, MS
"Gordon's Passion for wine and the industry comes through in his innovative approach to wine education." --Mel Dick, President Wine Division/Senior Vice President of Southern Glazer's Wine & Spirits
Wine Q. & A. is a different sort of wine appreciation book. Its author understands that a good number of people who read wine books do so simply because they want to know more than their friends do about the subject. And he believes that the ideal learning tool should engage all levels of interest. 
Presented in a question-and-answer, Trivial-Pursuit-stye format author and lifelong wine consultant Gordon Sullivan takes a completely novel approach to wine learning. Wine Q. & A. is source material for both cocktail-chatter and deep study; it is as light or as heavy as the goals of the reader.
Wine Q. & A. is designed to introduce readers to crucial characteristics of wine-its appreciation, its industry, its culture and history-by presenting à la carte nuggets of wine knowledge, key words and essential phrases in this easily digestible, "trivial," form. That's what makes its easy style effective and fun. 
Gordon has been fortunate to combine his wine avocation with his vocation for 48 years (so far). Employed by The Breakers, Palm Beach, Florida in the early 1970s, he worked his way up to Chief Sommelier. In 1978 Gordon signed on with Southern Wine & Spirits (now SGWS), a distributor based in Miami. There he rose from a position in the on-premise wine division to the Luxury Wine Brands Manager, Platinum Team. As manager of this department, a large portion of his time was spent developing educational programs for SGWS consultants and the wine trade. This decades-long experience and his desire to keep education center stage is the impetus for this book.