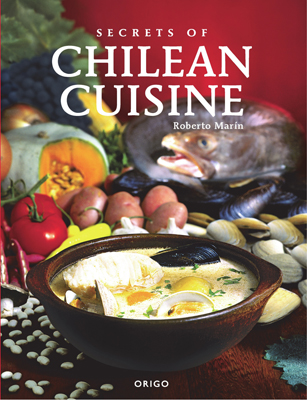 Secrets of Chilean Cuisine (Digital format: PDF)
$ 7.95
Digitally Watermarked. No DRM.
Roberto Marin
8 x 12", 96pp, Color illustrations, 2011
With this book, Chilean master chef Robert Marin gives the tips and techniques of Chilean cooking for more than 100 recipes straight from his homeland. The book also gives a quick lesson in pairing food with Chilean wine as well as an introductory primer on the history and influences of Chilean cuisine.
Sample recipe:
Oven-baked Empanadas
The oven-baked empanada is a magnificent symbol of 'Chilean-ness' and an important part of many activities. It is an essential element of Independence Day celebrations, the expected appetizer at barbecues, and a traditional part of Sunday dinners and sporting events.
Ingredients
20 empanadas
FOR THE BEEF FILLING
– 2 ¼ lbs chuck roast or chuck steak, finely diced
– 5 large onions, chopped
– 4 tablespoons lard
– 1 teaspoon cumin
– 2 tablespoons paprika
– 2 teaspoons hot sauce
– Salt and pepper
FOR THE DOUGH
– 8 cups sifted flour
– 7 tablespoons lard, melted
– Salt
– 1 teaspoon paprika mixed with 1 tablespoon oil
FOR THE EMPANADA
– 20 black olives, rinsed
– 40 raisins, soaked
– 4 hard-boiled eggs, cut into wedges
Preparation
BEEF FILLING
Sauté the beef and onion in lard for 5 minutes until the onions are translucent. Add remaining filling ingredients and let cool.
Refrigerate the mixture to retain the juice so that it will only be released inside the empanada.
THE DOUGH
Mix ½ quart of hot water with salt. Add remaining ingredients and knead well.
Divide the dough into small balls and roll out on a floured surface to G-inch thick. Cut into 6-inch rounds.
THE EMPANADA
In the center of each round, place 2 tablespoons of meat mixture, 1 piece of hard-boiled egg, 1 olive, and 2 raisins. Moisten the edges with warm water and fold in half. Fold the edges over and press together firmly.
Bake in a pre-heated medium-temperature oven for 15 minutes or until nicely browned. Remove from oven, cover with a clean kitchen towel, and let rest 10 minutes before serving.