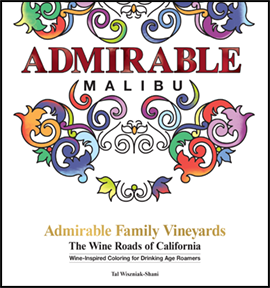 Admirable Family Vineyards: The Wine Roads of California Coloring Books Series
$ 14.95
Paperback, 9 x 9, 32pp, B&W illustration
Tal Wiszniak-Shani
Set in the center of beautiful Malibu, Admirable Family Vineyards creates lovely wines redolent of the region's distinct style of Surf and Sun.
In this book, artist Tal Wiszniak-Shani captures this unique Malibu character in a series of drawings that evoke a very particular feeling, well known among the natives: the experience of the right wine, sipped at the ideal vantage point to the Pacific, at the perfect time of day.
So, break out the colored pencils, pull the cork on a bottle of one of Admirable Family Vineyards' lapidary wines, and be inspired.
Make Your Mark series of coloring books for drinking age roamers features famed wineries from around the world and includes other local highlights and maps of the region.